About this Blog

A collection of articles and observations written by Canadian Expatriates from around the globe.

Traduisez en Français


About the Bloggers
Anna
Bethanie
Canuck Abroad
Dean P
Edward
Expat
mare ad mare
Nicole

Are you a Canadian living abroad? Interested in contributing to this blog?

Please email us and your profile will appear here!


Recent
Potty Parade
Going Postal
For Anyone Who Cares....
Hurricane Katrina: The Blame Game
Fishing with Dad
Ouch!
The Damage at Grand Isle
Are the American fed's really that inept?
The Meaning of "Eh"
A Polar Bear, a Dead Raccoon, and a Poll
Archives

March 2005
April 2005
May 2005
June 2005
July 2005
August 2005
September 2005
October 2005
November 2005
December 2005
January 2006
February 2006
March 2006
April 2006
May 2006
June 2006
July 2006
October 2006
April 2007
November 2007
March 2009
April 2009
June 2009
November 2009
February 2010

Can't find it?
Search the Expat Blog


Blog Bling

Support Canadian Expatriates by snagging some of the following bling and linking to us!

Like the Expat Clock?


Here is the script.





We can also design a button to match the colour scheme of your site!

Refer a Friend
Blogroll Me!


Expat Blogs
Absent Canadian
Adventures in Asia
Adventures in Tajikistan
Ahab's Whale
Anatomy of Melancholy
Angry Little Lady
Anna Overseas
As Canadian as Possible
Babble and Buzz
Backwardsfish
The Blog Pound
Blue Lotus
Canadian Bacon
The Canadian Beaver
Canadian California Girl
Canadian Content
Canadian Down Under
Canadian Gyopos Tour of Duty
A Canadian in Guayaquil
A Canadian in Heidelberg
Canadian in Mexico
A Canadian in Sao Paulo
A Canadian Student in London
Canuck in Asia
Cookie Crumb Kids
A Day in the Life of Bolivia
Deanna In Uganda
Digital Ed
The Displaced Canuck
Emma in London
Empires Fall
Gyopo Life
I have Seoul
In Search of the Perfect Noodle
Jason Does Asia
Jim's Korea
Junicus
Korea Bound
Lady Jane's Japanese Adventures
Letters From Africa
Life in Ithaca
Living La Vida Loca in Japan
The Lonely Canadian
Macvaysia
Mark Base: Views & News
Maticito's Crazy World
Mausi
Mike and Dean's Cross Border Tagteam
Mommy Abroad
Notes from a New Country
Odd Muse
Off on a Tangent
Outlaw Liss
Pipedreams
A Prairie Girl
Puns, Politics, and Pericles
Queen for a Year
Rooxy [French]
Sharp Mama
Somena Media
Somewhere Under the Bulgy Bit
Steel White Table
Stepping Stones
That Canadian Girl
Transplanted Canadian
Up Late In Wonju
Vu Deja
Words to Live By
The Young Man from Canada
«
?
Canadian Expats
+
»
«
Expat Express
»
Expats in Canada
- or soon to be -
Being American in T.O.
California Girl in PEI
Canadian Musings
The Canadian Perasma
Expat Travels
Life Without Borders
Teri and Tom's Blog
We Move to Canada
Canadian Blogs
All Things Canadian
The Amazing Wonderdog
Angry in the Great White North
Average Guys
Bacon and Eh's
Bite Me
Brain Poop
Canadian Cynic
Canadian History News
Canadian Tanstaafl
Canuck Flack
Canucklehead
The Crazy Rants of Samantha Burns
Daveberta
Dust My Broom
Federal Election Canada
Five of Five
FreeThought.ca
Funcentral
The Gods of the Copybook Headings
Heart of Canada
Hellsza Decent Blog
Hockey Nation
I am (also) Canadian
Journey of a Transplanted Seed
A Little Bit Left
The Maple Lounge
The Mildly Annoyed Canadian
Mitchieville
My Blahg
Nuclear Moose Candy
Ordinary Joe
Poop'd Culture
Postcards from the Mothership
The Poutine Diaries
Rants, Raves, Reviews of a Proud Canadian Surfer
Raridayar
Rick Mercer's Blog
Simply Coll
Small Dead Animals
That's My Stapler
The Toque
Turning 30 and a Half
Your Moosey Fate
110 Lines of Longitude
«
?
Blog Canada
+
»
«
Letter Zed
»
«
?
Proud Canadian
+
»
Expat Sympathizers
- Friends of the Expat Blog -
Ask Flippy
Canadian Content
- Affiliations -
Blogs Canada
Canadian Conversation
Progressive Bloggers
TLB Canadian Community
Blog Directories
Blo.gs
Blogarama
Blogazoo
Blog Clicker
Blog Explosion
Bloggernity
Blog Hop
Bloghub
Blog Soldiers
Blog Street
Blog Universe
Blogwise
Blogxchange
Expat-Blog
Get Blogs
Globe of Blogs
Syndication
Atom
Bloglines
Feedburner
My Yahoo
Tag Board
The Expat Poll
- Updated Monthly -

Don't forget to cast your vote in this month's Canadian Expatriates Feature Poll!

At the end of the survey, you will have an opportunity to discuss the results with other expats.


Join the Roundup
The Expat Roundup is a aggregated portal designed to raise awareness of Canadian expat bloggers.

If you would like to join the Expat Roundup, please email us your feed url.

In exchange for this service, we ask you to support the Roundup by linking to the portal with one of the following images.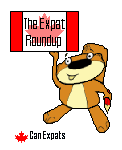 Suggestion Box

Do you have a suggestion for the site or a link that you would like to add?


Expat Announcement Centre
| | |
| --- | --- |
| An Invitation from Foreign Affairs Canada | [-] |
Canadian Expatriates, its contributors, and readers have been invited by
Foreign Affairs Canada
to participate in a series of eDiscussions. The current topic is "
Showcasing Canadian Culture and Know-How Abroad
".
We are asked to consider the following questions:
What role does Canadian culture and know-how play in our foreign policy?


How might the government best promote Canadian talent and expertise in the world?

The eDiscussion runs from April 4 to May 6, 2005. At its conclusion, a summary of the discussion will be sent to senior policy planners.

The Expat admin team encourages its readers to join in the eDiscussion at the Canadian International Policy website.


---
| | |
| --- | --- |
| Call for Contributors | [-] |
The administration team is currently searching for Canadian expatriates who would be interested in contributing to the
Expat Blog
. The subject matter is wide open, but must remain family friendly.
If you are interested in joining our blogging team, please send
an email
our way!
Thank you!
---
Thursday, September 15, 2005
Welcome Minutemen!
by Expat
I was wondering what was up with all of the recent Google hits for "Minutemen" and "Canadian border".
This
news article
explains why.
To welcome the Minutemen to this blog and make them feel more at home, we are gladly rolling out the Welcome Mat!
HINT:
Click the "+" symbol below to unfurl the hospitality.


Dearest Minutemen,

The following list should help to battle against any homesickness that you are experiencing while you are defending the 49th!

You Might Be a Redneck if...


1. More than one living relative is named after a southern civil war general.
2. Your front porch collapses and more than six dogs are killed.
3. You ever used lard in bed.
4. Your home has more miles on it than your car.
5. You think that potted meat on a saltine is an hors d'oeurve.

6. There is a stuffed possum anywhere in your house.
7. You consider a six-pack and a bug-zapper high-quality entertainment.
8. Fewer than half of your cars run.
9. Your mother doesn't remove the Marlboro from her lips before telling the State Trooper to kiss her ass.
10. The primary color of your car is "bondo."

11. You honestly think that women are turned on by animal noises and seductive tongue gestures.
12. You stand under the mistletoe at christmas and wait for Granny and cousin Sue-Ellen to walk by.
13. Your family tree doesn't fork.
14. Your hairdo has ever been ruined by a ceiling fan.
15. Your mother has been involved in a fistfight at a high school sports event.

16. You've ever barbecued Spam on the grill.
17. The best way to keep things cold is to leave'em in the shade.
18. The neighbors started a petition over your Christmas lights.
19. Your brother-in-law is your uncle.
20. You have refused to watch the Academy Awards since "Smokey and the Bandit" was snubbed for best picture.

21. Your only condiment on the dining room table is the economy size bottle of ketchup.
22. The rear tires on your car are at least twice as wide as the front ones.
23. You consider "Outdoor Life" deep reading.
24. You prominently display a gift you bought at Graceland.
25. You use the term 'over yonder' more than once a month.

26. The diploma hanging in your den contains the words "Trucking Institute."
27. Your mother keeps a spit cup on the ironing board.
28. You've ever worn a tube top to a wedding.
29. Your favorite Christmas present was a painting on black velvet.
30. You think that Dom Perignon is a mafia leader.

31. The most commonly heard phrase at your family reunion is "What the hell are you looking at, Shithead?"
32. You think that beef jerky and Moon Pies are two of the major food groups.
33. You think that Campho-Phenique is a miracle drug.
34. The first words out of your mouth every time you see friends are "Howdy!" "HEY!" or "How Y'all Doin?" (If they respond with the same... they're a redneck too!)
35. You have more than two brothers named Bubba or Junior.

36. Your father encourages you to quit school because Larry has an opening on the lube rack.
37. You think a Volvo is part of a woman's anatomy.
38. You think that the styrofoam cooler is the greatest invention of all time.
39. You've been too drunk to fish.
40. You had to remove a toothpick for wedding pictures.

41. You've ever used a weedeater indoors.
42. You have a rag for a gas cap (on a car that does run.)
43. You look upon a family reunion as a chance to meet 'Ms. Right.'
44. You have to go outside to get something out of the fridge.
45. Your richest relative invites you over to his new home to help him remove the wheels and skirt.

46. You've ever financed a tattoo.
47. Your idea of a 7 course meal is a bucket of KFC and a sixpack.
48. You go to a tupperware party for a haircut.
49. You have spray painted your girlfriend's name on an overpass.
50. Your lifetime goal is to own a fireworks stand.

51. Someone asks to see your ID and you show them your belt buckle.
52. Your Junior/Senior Prom had a daycare.
53. The directions to your house include "turn off the paved road."
54. Your dog and your wallet are both on chains.
55. Your kids are going hungry tonight because you just had to have those Yosemite Sam mudflaps.

56. You owe the taxidermist more than your annual income.
57. You have lost at least one tooth opening a beer bottle.
58. Jack Daniels makes your list of "most admired people".
59. You won't stop at a rest area if you have an empty beer can in the car.
60. Your dog can't watch you eat without gagging.

61. You have a Hefty bag on the passenger side window of your car.
62. You have a very special baseball cap just for formal occassions.
63. You have to scratch your sister's name out of the message "for a good time call..." because you feel guilty about putting it there.
64. Redman sends you a Christmas card.
65. You bought a VCR so you could tape wrestling while you are at work.

66. Your dad walks you to school because you are both in the same grade.
67. Your wife has a beer belly and you find it attractive.
68. Your house doesn't have curtains, but your truck does.
69. You have started a petition to change the National Anthem to "Georgia on My Mind."
70. You call your boss "Buddy" on a regular basis.

71. You consider your license plate personalized because your dad made it in prison.
72. You have been fired from a construction job because of your appearance.
73. You need one more hole punched in your card to get a freebie at the House of Tattoos.
74. You need an estimate from your barber before you get a haircut.
75. After making love you ask your date to roll down the window.

76. The biggest fashion risk you take is which plaid you'll wear to the 4-H Fair.
77. You have flowers planted in a bathroom appliance in your front yard.
78. Someone in your family says "Cum'n heer an' lookit this afore I flush it."
79. Your wife weighs more then your refrigerator.
80. You mow your lawn and find a car.

81. If going to the bathroom in the middle of the night involves putting on shoes (if you have them) a jacket and grabbing a flashlight.
82. You go christmas shopping for your mom, sister, and girlfriend, and you only need to buy one gift.
83. You are still holding on to Confederate money because you think the South will rise again.
84. You consider pork and beans to be a gourmet food.
85. You have to go down to the creek to take a bath.

86. You participate in the "who can spit tobacco the farthest contest."
87. You roll you hair with soup cans and wash it once a year.
88. You consider a three piece suit to be a pair of overalls, a plaid flannel shirt and thermal underwear.
89. There is a sheet hanging in your closet and a gun rack hanging in your truck.
90. You think the Mountain Men in deliverance were just "misunderstood."

91. You've ever made change in the offering plate.
92. If the fifth grade is referred to as "your senior year."
93. You consider a good tan to be the back of of your neck and the left arm below the shirt sleeve.
94. You own at least 20 baseball hats.
95. You know of at least six different ways to bend the bill of a baseball hat.

96. You can change the oil in your truck without ducking your head.
97. When you run out of gas you put gin in the gas tank.
98. Your biggest ambition in live is to "git thet big'ole coon. The one what hangs 'round over yonder, back'ah bubba's barn..."
99. Three quarters of the clothes you own have LOGOS on them.
100. When you leave your house you are followed by federal agents of the Bureau of Alcohol Tobbaco and Firearms, and the only thing you worry about is if you can loose them or not.

101. You have 5 cars that are immobile and house that is.
102. You gene pool doesn't have a "deep end."
103. "Honey? Are the lights out? Is the door locked? Is the parking brake set?" is what you hear right before you and your wife/girl make love.
104. Your 'huntin dawg' cost more than the truck you drive him around in.
105. You'd rather catch bass than get some (if you can't guess...)

106. You have a Hefty bag for a Car/Truck convertable top.
107. Your belt buckle weighs more than three pounds.
108. You think that safe sex is a padded headboard on the waterbed.
109. You have an Elvis Jello mold.
110. You own more cowboy boots than sneakers.

111. You've been to a funeral and there were more pick-ups than cars.
112. You have a picture of Johnny Cash, Willie Nelson, or Elvis over your fireplace.
113. You just bought an 8-track player to put in your car.
114. There are four or more cars up on blocks in the front yard.
115. The theme song at your high school prom was 'Friends in Low Places.'

116. It's easier to spray weed killer on your lawn than mow it.
117. You think that John Deere Green, Ford Blue, and Primer Gray are the three of the primary colors.
118. You've ever climbed a water tower with a bucket of paint to defend your sister's honor.
119. You idea of talking during sex is "Ain't no cars coming, baby!"
120. Your vehicle has a two-tone paint job--primer red and primer gray.

121. The tobacco chewers in your family aren't just men.
122. Yer mom calls ya over t'help 'cause she has a flat tire...on her house!
123. The ASPCA raids yer kitchen.
124. Ya have to check in the bottom yer shoe for change so ya can get grandma a new plug of tobacco.
125. Foreplay consists of slipping off her saddle.

126. Ya can't get married to yer sweetheart cause there is a law against it.
127. Ya celebrate groundhog day (cause ya believe in it!)
128. You've been on TV more than 5 times describing the sound of a tornado.
129. You fish in your above-ground pool, especially if you catch something!
130. When a sign that says "Say No To Crack!" reminds you to pull up your jeans.

131. Helping your cousin, Billy-Bob, move into his new place consists of the wheels off his doublewide.
132. Your beer can collection is considered a tourist attraction in your home town.
133. You know you're a redneck if you wake up with both a black eye and a hickey.
134. Getting a package from your post office requires a full tank of gas in the truck.
135. "Buck Naked Line Dancing" isn't a videotape, it's "Ladies Night" at the local bar.

136. Your wife wants to stop at the gas station to see if they've got the new Darrell Waltrip Budweiser wall clock.
137. You dated your daddy's current wife in high school.
138. You're moved to tears everytime you hear Dolly Parton singing "I Will Always Love You."
139. Dolly Parton reminds you of the 'Grand Tetons'. (of course this is a very sophisticated sophisticated redneck joke... if you laughed... you must be a redneck, only they will get this one.)
140. You grow Vidalia onions rather than considering them a gourmet item.

141. Your Momma would rather go the racetrack than the Kennedy Center.
142. The most serious loss from the earthquake was your Conway Twitty record collection (you insurance man is one too if he pays you for it.)
143. You actually made a pyramid of cans in the pale moonlight with Alan Jackson.
144. You have spent more on your pickup truck than on your education.
145. You've ever hit a deer with your car... on purpose!

146. You can tell your age by the number of rings in the bathtub.
147. Your mom gives you tips on how to sneak booze into sporting events.
148. You've ever parked a Camaro in a tree.
149. Exxon and Conoco have offered you royalties for your hair.
150. Your dad is also your favorite uncle.

151. The blue book value of your truck goes up and down depending on how much gas it has in it.
152. Your classes at school were cancelled because the path to the restroom was flooded.
153. On your job application under "SEX" you put "As often as possible."
154. During your senior year you and your mother had homeroom together.
155. You're a lite beer drinker because you start drinking as soon as it gets light.

156. On your first date you had to ask your Dad to borrow the keys to the tractor.
157. Your parakeet knows the phrase "Open up, Police!"
158. You saved lots of money on your honeymoon by going deerhunting.
159. In tough situations you ask yourself, "What would Curly do?"
160. Taking your wife on a cruise means circling the Dairy Queen.

161. You think the last words to the Star Spangled Banner are "Gentlemen, start your engines." or "Play Ball..."
162. Your child's first words are "Attention K-Mart shoppers!"
163. Your wife's best pair of shoes are steel-toed Red Wings.
164. You have a color coordinating rope that ties down your car hood.
165. You bring your dog to work with you.


And finally...

You might be a redneck if you are currently patrolling the Canadian border vigilante-style.


Warning!
If you can relate to ten or more of the above (or just that last one), you are a redneck and should seek civilised help immediately.

Tip o' the toque to Jeff Foxworthy.





---
---
Great way to welcome them in expat! ;-)
---
---
That is the most comprehensive list I've seen so far :)

I read an article about the minutemen in the paper today. The RCMP didn't sound too impressed. A bunch of guys with guns walking around in the woods just at the border isn't something they want.
---
---
They're looking for illegal immigrants? Uh hello, the Canadians that are sneaking *into* the US are probably the ones *they* want here. The rest of us want out. Besides, hockey season is starting, what sane Canadian would leave Canada when they finally have hockey?
---
---
Thanks Expat Traveler! :)

You would be surprised at how many hits I have received for "Minutemen" and "Canada" since posting that! ROTFLMAO!!!

You both make some excellent points, Patrick and Flippy!
---
---